Outdoor Activities in Charleston
Photo Credit: https://www.nps.gov/neri/planyourvisit/grandview.htm
People who live in Charleston, WV know that this is one of the most beautiful parts of the country. And no matter how you like to appreciate the outdoors, there is a lot to do in the area. Plus, the weather is warm so many months out of the year that you can plan outdoor activities in Charleston at almost any time. The next time you're itching to enjoy some beautiful scenery and natural wonder, put down the top of your F-TYPE convertible and head to one of these popular local destinations.
Activities for the Charleston Adventurer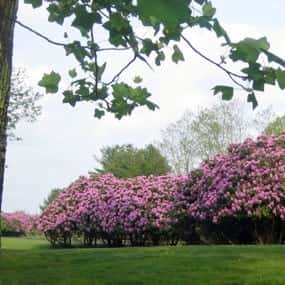 Grandview State Park – This popular park in Beckley offers accessible hiking trails and stunning views of the surrounding area. There are also several playgrounds for the kids and an outdoor theater that hosts a regular schedule of programming when the weather is balmly.
Pullman Square – This outdoor mall in Huntington is not exactly an adventure destination, but it is a great place to be on a beautiful day – and a great option for those who aren't quite so outdoorsy. There are tons of shopping and dining options as well as a farmers market and an outdoor concert series during the summer months.
Wallace Hartman Nature Preserve – Even though this site is just minutes from downtown Charleston, you will feel like you have completely left the city behind. Enjoy a long or short hike, pack a picnic, and plan on visiting in the fall when the leaves are full of vibrant color.
Hatfield-McCoy Trails – If you like to ride ATVs or other adventure vehicles, this series of interconnected trails can't be missed. There are over 500 miles of trail in total, covering all kinds of terrain and passing though some of the most impressive scenery that Boone Country has to offer.
Summersville Lake – This is about an hour outside of Charleston, but it's worth the drive to take advantage of all the aquatic activities this sprawling lake complex has to offer. From fishing and swimming to all types of water sports, you can plan a day full of activities and then either camp, park an RV, or rent a room at one of the many options in the area.
Adventure is Waiting for You in Charleston, WV
If you're going to take advantage of all the summer activities in Charleston, or are looking for adventure any time of year, you need the right vehicle. Visit Jaguar Charleston to check out our inventory, or rely on our service center to get your current vehicle in perfect shape. Feel free to contact us with questions at any time.