Jaguar Roadside Assistance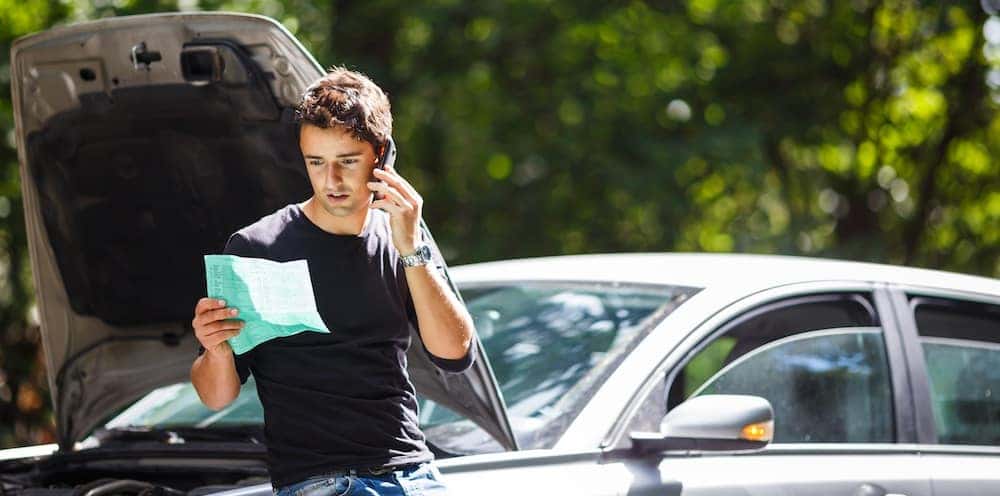 Complimentary Jaguar roadside assistance is part of the Jaguar EliteCare program. It provides Jaguar owners from Parkersburg to Wheeling with 24/7/365 access to help for 5 years or 60,000 miles. That means if you get stranded away from home, you don't have to worry about what to do next.
Jaguar EliteCare Schedule Service
How does Jaguar Roadside Assistance Work?
Using Jaguar roadside assistance is simple, quick and easy for Beckley-area drivers:
Call Jaguar roadside assistance at 1-800-4-JAGUAR (1-800-452-4827). We suggest programming this number in your phone, so you have have easy access to it.
Once you're connected with a representative, provide them the info they need, such as what the issue is and where you are.
Wait for help to arrive to bring your car or SUV to a Jaguar authorized service center.
If you happen to be more than 50 miles from home, Jaguar roadside assistance pays for alternative transportations and hotel accommodations while your car troubles are resolved.
Jaguar EliteCare
As we mentioned, roadside assistance is part of the Jaguar EliteCare package for your luxury vehicle. This program also includes 5 years of telematics support, as well as:
Complimentary routine maintenance: Keep your Jaguar running like new with this complimentary service for the first 5 years or 60,000 miles. It covers regular inspections for tires, brakes, hoses, belts, and vehicle fluids. If something needs to be replaced or repaired, our local service center will use only genuine OEM parts.
Class-leading new vehicle limited warranty: You also get a basic limited warranty of five years or 60,000 miles, which is transferable if you decide to sell your Jaguar within the coverage period.
Get Your Jaguar Serviced at Jaguar Charleston
Have roadside assistance bring your Jaguar to our service center, or simply schedule an appointment when it's time for a routine maintenance check. Our highly trained technicians will have you back on the road in no time.
More from Jaguar Charleston Service
Purchasing a new or used Jaguar in the Parkersburg area is only the beginning. To keep your Jaguar vehicle running at it's best for years to come, it will require regular maintenance. Not sure what maintenance needs to be done when? While you can always consult your owner's manual for vehicle specifics, the general recommended…

Complimentary Jaguar roadside assistance is part of the Jaguar EliteCare program. It provides Jaguar owners from Parkersburg to Wheeling with 24/7/365 access to help for 5 years or 60,000 miles. That means if you get stranded away from home, you don't have to worry about what to do next. Jaguar EliteCare Schedule Service How does…

Schedule Service Jaguar Elitecare Advantage Wheeling drivers know that taking care of their new Jaguar is important. While some people may think basic vehicle maintenance can be put off, it's important to know what to look for and when to take care of it. Apart from general vehicle care, like tire pressure levels, there are…